Apostle Spoons: A Useful Kitchen Addition For Cooking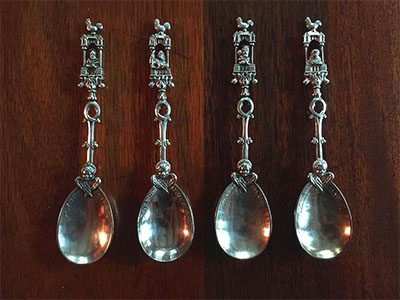 The apostle's spoon is a uniquely designed spoon that is often made of silver or silver plating. This type of spoon is designed with a long handle and a deep bowl, making it the perfect spoon for eating soup. What sets this spoon apart is the image of an apostle or saint at the end of the handle. Each one bears his distinctive emblem, making it a special and religious item. Apostle spoons were especially popular before the Reformation. They symbolize the Last Supper of Christ with the Apostles. People in England and Germany used apostle spoons the most.
Apostle Spoon Meaning
Apostle spoons are a set of spoons with images of the twelve apostles from the New Testament of the Christian Bible, each depicted on the end of a handle. These spoons were popular in England during the 16th and 17th centuries and were often given as christening presents or as a gift to a newlywed couple. The spoons were also used during the celebration of the Eucharist or Communion, with each person using their own apostle spoon to partake of the sacrament. Apostle spoons were usually made of silver and were highly prized possessions. Today, they are considered to be collector's items and are highly sought after by antique enthusiasts.
Read More: Rice Spoons
History of Apostle Spoons
The tradition of giving spoons as baptismal presents for godchildren originated in early-fifteenth-century Europe. The British Museum has a set of spoons from England that dates back to 1536–7. One of the spoons, referred to as the 'Saviour' or 'Master' spoon, has a figure of the Virgin Mary on it. By the sixteenth century, this tradition had become popular but it started to die out by the 1660s. In some communities, this tradition continued until at least the mid-twentieth century.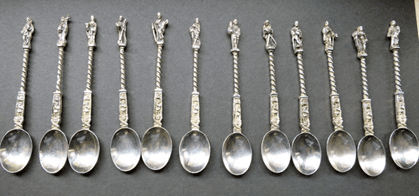 The first will mentioning silver spoons was in 1516, when Amy Brent bequeathed "XIII silver spoons of J'hu and the XII Apostles." The dramatists Ben Jonson, Thomas Middleton, Francis Beaumont, and John Fletcher allude to silver spoons in their works. Shakespeare refers to them in Henry VIII, Act 5, Scene 3, where Cranmer declines to be a sponsor for the infant Elizabeth because he doesn't have enough money. King Henry banters with him, saying "Come, come, my lord, you must have spare some spoons."
Sets of twelve apostles are uncommon, and complete sets of thirteen, with Jesus on a larger spoon, are rarer. The spoon shown is typical of single spoon not part of a set; the apostle is holding a book. Such examples are in electroplated nickel silver and marked "EPNS" on the rear face.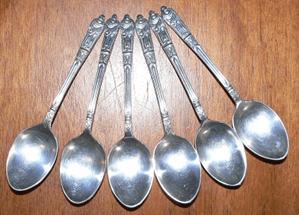 Different Shapes and Structures of Rice Spoons
1. Paul Spoon 17th Century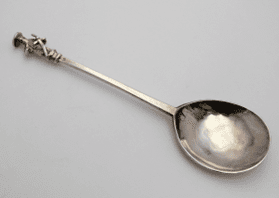 The followers of Apostle Paul also believed in medieval times that Paul used a silver spoon to eat his meals. People say that the Virgin Mary gave Paul the spoon and that it has supernatural powers. Some believe that the spoon has the power to heal the sick and exorcise demons. This Charles I period silver apostle spoon is a great example of the excellent craftsmanship by one of the top spoon makers of the period, Richard Crosse.
Moreover, the figure depicted on the spoon finial is of St. Paul, who was not one of the disciples, but rather the patron saint of the City of London. He carries a sword and wears a nimbus, which is often seen in paintings and sculptures of saints. Also, the figure is gilt, although the sword and nimbus rim have been polished over time and now appear silver. The nimbus also bears a relief of a sacred dove.
Furthermore, this cast figure of St. Paul carrying a sword is a popular depiction of the patron saint of the City of London. His emblem relates to his beheading outside Rome with a sword. Also, the figure is gilt, although the sword and nimbus rim is showing as silver due to almost four hundred years of polishing. The figure wears a nimbus on his head which bears a sacred dove in relief.
Also, the apostle spoon has a good weight, a strong hexagonal shaft, and an excellent unworn, fig-shaped bowl. The figural finial is gilt and well-detailed. The original "v" joint is barely visible. Above all, the hallmarks are excellent, with a leopard's head crowned bowl mark and clear stem marks that show the "RC" maker's mark, the lion passant, and the date letter. Richard Crosse was apprenticed to the spoon maker Robert Jygges between 1625 and 1632. Once his freedom was achieved, he became a prolific spoon maker in his own right.
This antique apostle spoon is in great condition overall, with a beautiful patina. Lastly, the bowl has kept its original, thick rim and the hallmarks are still visible.
2. Vintage Apostle Spoons
ST. Peter's Apostle spoon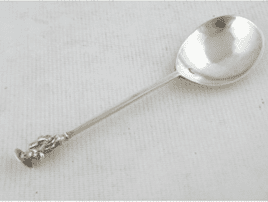 This is a superb James I period apostle spoon in fine original condition. The apostle depicted is St Peter holding a key with an unusual combination of saltire and St George's cross to the nimbus. The spoon has an excellent bowl; retaining its original size, shape, and form with no signs of any wear.  This is a fantastic all-round example of a 17th-century apostle spoon.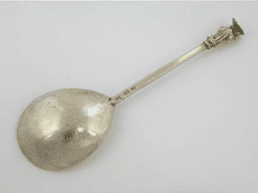 This West Country apostle spoon is an excellent example of spoon-making in the city of Wells. A member of a prominent family of spoon makers made the spoon in one of the towns they worked in. The spoon has a good feel in the hand, with its original gilt apostle at the end. The apostle depicted is St John, and he bears a particularly attractive frilly nimbus with clear dot-pricked betrothal initials and 1638 date.
This spoon is in excellent condition, with a lovely patina and a thick, unworn bowl. The hallmarks are clear and show an "IS" to the bowl and twice more to the stem, in addition to an incuse "hand" mark.
Tim Kent illustrates this spoon in "West Country Silver Spoon & Their Makers" on pages 154/5 as plate E5. The How Collection sold this spoon in 2007.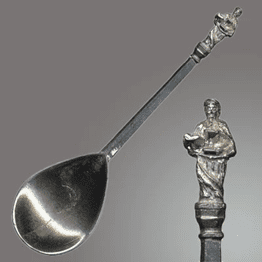 Originally from Bethsaida, Saint Andrew was a fisherman before becoming the first Apostle of Jesus Christ. He was a follower of John the Baptist before he met Jesus and preached throughout Asia Minor, Russia, Poland, and Greece. ST andrew was tied to an 'X' shaped cross and continued to preach for two days until his death, which happened on November 30th. He is now the patron saint of fishermen, maidens, spinsters, and Scotland. The spoon shows him holding a saltire cross. It is 17cm long.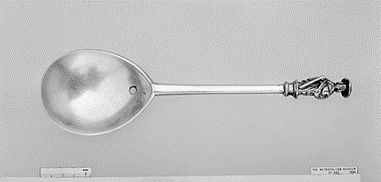 The St Philip apostle spoon is a beautiful silver spoon that was handmade in the early 1800s. Its value comes from its rarity and the intricate engravings of biblical scenes on it.
St James the Greater Apostle Spoon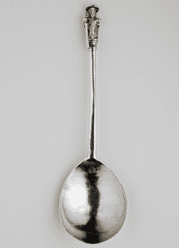 Saint James the Greater was one of the original twelve apostles and is the patron saint of pilgrims and travelers. Traditionally, pilgrims to his shrine in Santiago de Compostela in Spain would carry a staff or cane, and many would also carry a small spoon. pilgrims ate garlic soup with spoons because they believed the soup had medicinal properties. The tradition of the pilgrim's spoon continues to this day, with many modern pilgrims carrying a spoon as a reminder of St. James and his role as a protector of travelers. Some even go so far as to have their spoon blessed by a priest before beginning their journey.
People love apostle spoons because they are rare and because of their unique design. The spoons are designed to look like the apostles. There were only twelve apostles at a time, so the spoons are quite rare as well. Apostle spoons are so loved because they were the favorite spoons of each apostle.
The Popularity of Apostle spoons
The apostle spoon was a popular baptismal present for godchildren in countries such as England and Germany. Also, the phrase "born with a silver spoon in one's mouth" is thought to be the origin of this custom. Some communities continued this tradition until the mid-twentieth century. For example, in 1516, newlyweds Amy Brent and her husband were given spoons as a wedding gift.
This was the first recorded example of this tradition. In her will, Brent bequeathed 13 silver spoons to her husband with the 12 apostles engraved on them. During the Elizabethan and early Stuart periods, multiple dramatists allude to Apostle spoons in their work.
In Shakespeare's Henry VIII, the King jokes with his advisor Cranmer, saying 'Come, come, my lord, you'd spare your spoons.'" Apostle spoons were most popular in England and Germany and became collectible in Victorian times. During this era, the Victorians revived the design and created miniature versions of coffee spoons, and reproduced original designs.
Downfall of Apostle spoon
The apostle spoons were most popular before the Reformation when people still had a strong belief in the services of a patron saint. "Also, the declining popularity of apostle spoons cannot be blamed solely on "heathens".
During the Reformation period, people were encouraged to remove religious images because they were said to undermine the Decalogue's prohibition of idolizing sculpted images. Despite this, some spoons survived being melted down because they were considered "family heirlooms".
These spoons date back to the Victorian period. revived during that time and miniaturized for use as a coffee spoon. Lastly, the turn of the 19th and 20th centuries also saw a new design for the apostle spoon;
The tradition of gifting apostle spoons dates back centuries. Most commonly, people associate this practice with christenings and baptisms. People were only gifted silver spoons in the beginning because they were valuable keepsakes for the child. They also served as a nest egg for the child's future. With apostle spoons, it was a common choice for godparents and another close family to gift spoons with an apostle matching the name of the child. This is the main reason that full sets of apostle spoons are exceptionally rare.
Also, the most commonly found example of spoons throughout history is apostle spoons. The most popular apostle names are St. John and St. James. People collect apostle spoons because they want a complete set. However, it is difficult to find a set of twelve spoons that were all made in the same year. Even less common is a set that is complete with the master spoon – containing the figure of Jesus.
Today, people mostly give apostle spoons as christening gifts, especially in Scotland with St Andrew apostle spoons. Even though they're not as useful as regular everyday spoons, their rarity and value make them quite popular. Apostle spoons are collectible silverware pieces that people usually use for display and decoration.