10 Easy Tips for Frying Most Flavorful & Crispy Fish Ever
If you're a seafood lover, then you know that there's nothing quite like biting into a perfectly crispy and golden fried fish. But as delicious as it is, frying fish can be a bit tricky. From getting the right temperature to choosing the right type of oil, there are many tips for frying fish that can make or break your fried fish recipe.
That's why we've put together this guide with tips for frying fish that will help you achieve that perfect crispiness every time. Whether you're a seasoned pro or a beginner in the kitchen, these tips will ensure that your fried fish recipe is a success. So let's dive in and learn how to fry fish like a pro!
Read More:  Sirloin Grilling Tips – Grilling Sirloin to Perfection
When it comes to frying fish, the oil you use makes a big difference. Peanut oil is your best bet for crisp, never greasy results.
Peanut oil has a high smoke point of 450 degrees Fahrenheit, meaning it can get really hot without burning. This allows you to fry your fish at the ideal temperature of 325 to 350 degrees to achieve maximum crispiness without overcooking the fish itself.
Other common oils like vegetable and canola oil have lower smoke points, so your breading may burn before the inside of the fish is cooked through. Olive oil is also not recommended since it has a low smoke point and a strong flavor that can overpower your fish.
So for the crispiest, most flavorful fried fish, reach for peanut oil. Preheating it to 325 to 350 degrees before adding your breaded fillets is key. Pop a deep-fry thermometer in the oil to monitor the temp as you go. If the oil begins to smoke or the temperature drops substantially when you add the fish, allow it to reheat back to the right range before adding more fillets.
By using the oil with the highest smoke point and preheating it properly, you'll be well on your way to achieving perfectly fried fish with an ultra-crispy coating and moist, flaky meat inside – and absolutely no greasy messes. So grab that peanut oil and let's get frying!
⏩First, pat the fish fillets dry with a paper towel. This will help the coating stick better. Then set up your breading station with three shallow dishes: one with flour, one with beaten egg, and one with your choice of seasoned breadcrumbs.
⏩To bread the fish, first, dredge each fillet in the flour. Shake off any excess, then dip into the beaten egg, coating both sides completely. Let the excess egg drip off, then transfer to the breadcrumb mixture and turn to coat both sides. Press the crumbs onto the fillets to help them adhere. The layer of flour helps the egg stick, and the egg helps the breadcrumbs stick. This layered coating seals in the juices as the fish cooks, keeping it moist and tender.
⏩For the breadcrumbs, use panko for the crispiest results. You can also add spices like garlic powder, onion powder, paprika, salt, and pepper for extra flavor. Grated Parmesan cheese and fresh herbs like parsley and dill work great too. Experiment with different seasoning combos to suit your tastes!
⏩Once breaded, either let the coated fish rest on a wire rack for 10-15 minutes before frying or fry it immediately for the crispiest results. Either way, following these breading techniques, will ensure a perfect, evenly coated layer that seals in moisture and maximum flavor.
Now your fish is ready for the hot oil! So grab your fillets, breading ingredients, and seasonings, and let's batter up and fry some delicious fish.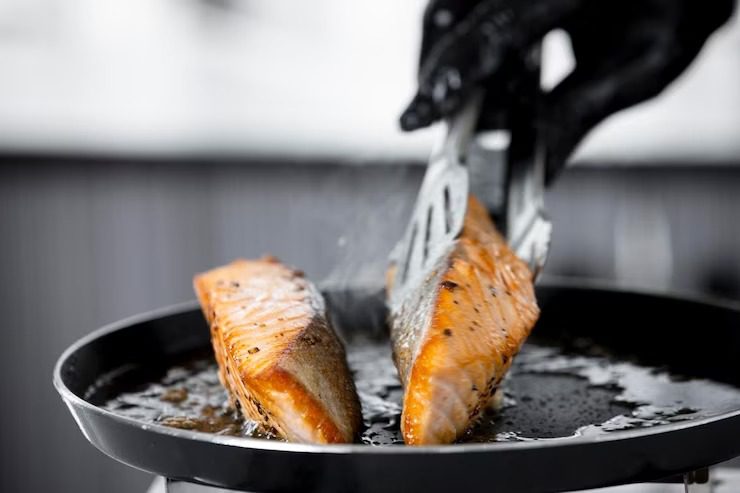 The key to perfectly fried fish is using the right technique. Follow these steps for crisp, never greasy results every time:
Preheat your oil to 325-350 degrees Fahrenheit.

Peanut oil works best due to its high smoke point.

Gently slip the breaded fish fillets into the hot oil one by one

, being careful not to overcrowd the pan. This ensures the oil temperature stays consistent.

Fry the fish for 3-5 minutes on each side, flipping once,

until the breading is deep golden brown and crisp. Resist the urge to move the fillets too much – this can cause the breading to fall off.

Use a deep fry or instant-read thermometer to check that the internal temperature

of the fish has reached 145 degrees F. This ensures it's safely cooked throughout.

Remove the fillets from the oil and let the excess drain for 1-2 minutes

on a wire rack or paper towel-lined plate. This allows the breading to crisp up even more.
Transfer the fried fish to a plate lined with paper towels to absorb any remaining surface oil.
Let's be honest – frying fish at home can easily go wrong if you're not careful. But by avoiding common mistakes, you'll be well on your way to perfect results.
↳A major issue is overcrowding the pan. Adding too much fish at once causes the oil temperature to drop drastically, resulting in soggy breading and fish that takes too long to cook through. To fix this, simply fry smaller batches, allowing the oil to reheat between each addition.
↳Not using a deep fry or instant-read thermometer is another common mistake. Without carefully monitoring the oil temperature, your fish can easily become either soggy or burnt. Always aim for 325 to 350°F and use a thermometer for the most accurate readings.
↳Under-draining the fried fish can leave you with an oily mess. To remedy this, allow the fillets to drain on a wire rack or layers of paper towels for at least a few minutes after frying. This will absorb much of the surface oil that can make the bread soggy.
↳Not checking the internal temperature of the fish is yet another issue. Without ensuring it's properly cooked throughout, your fish can be unsafe to eat. So use a meat thermometer to check that fillets have reached 145°F.
By keeping an eye on these common pitfalls – like temperature control, proper breading technique, and effective draining – you can avoid many of the frustrations that come with frying fish at home. A few simple fixes will have you achieving perfectly fried fillets with crispy breading and moist, flaky meat in no time.
Properly draining your fried fish is key to maximizing crispness and minimizing greasiness. After removing the fillets from the oil, lay them on a 

wire rack

 set over a 

rimmed baking sheet

 or between layers of paper towels.

This allows the excess oil to drain away from the breading. Leave the fish undisturbed for at least 3-5 minutes to allow the coating to crisp up further.

To store leftover fried fish, transfer it to an airtight container once cooled and refrigerate for up to 3 days.

Reheat in a 300°F oven until the breading is crisp and the fish is hot throughout.
Frying fish at home inevitably means some mess and cleanup, but there are ways to minimize it. First, line your baking sheets with paper towels to catch any excess oil as the fish drains. Next, transfer the drained fish to a plate lined with paper towels to absorb any remaining surface oil. Once the fish has been enjoyed, soak up spillage and grease on counters, stovetops, and utensils with more paper towels. Finally, add extra oil to your washing-up water to help break down the messy crumbs and particles.
Over time, you'll get faster at breading the fillets with less mess and develop systems that make cleanup easier. But sooner or later, a little mess is just part of enjoying delicious fried fish at home.
Q: What is the secret to frying fish?
A: The secret to frying fish lies in a few key steps. Firstly, ensure that the fish is fresh and properly cleaned. Secondly, make sure to pat the fish dry before coating it with flour or batter. This helps the coating adhere better and results in a crispier texture. Lastly, maintain the oil temperature at around 350-375°F (175-190°C) to achieve a golden-brown crust while ensuring the fish cooks evenly.
Q: How to fry fish like a pro?
A: To fry fish like a pro, follow these steps:
Choose fresh fish and clean it thoroughly.
Pat the fish dry with paper towels to remove excess moisture.
Season the fish with salt, pepper, and any desired spices.
Coat the fish in flour or batter, ensuring an even and thorough coating.
Heat oil in a deep pan or skillet to around 350-375°F (175-190°C).
Gently place the fish into the hot oil, being careful not to overcrowd the pan.
Fry the fish for a few minutes on each side until it turns golden brown and crispy.
Once cooked, remove the fish from the oil and place it on a paper towel-lined plate to drain excess oil.
Serve immediately with your favorite accompaniments.
Q: How do you keep fried fish crispy?
A: To keep fried fish crispy, it's important to follow a few tips:
Ensure the fish is dry before coating it with flour or batter. Moisture can lead to a soggy coating.
Use a deep pan or skillet with enough oil to fully submerge the fish. This allows for even frying and crispiness.
Maintain the oil temperature between 350-375°F (175-190°C). If the oil is too hot, the coating may burn quickly, while if it's too cool, the fish may become greasy.
Avoid overcrowding the pan, as it can lower the oil temperature and result in a less crispy texture.
After frying, place the fish on a paper towel-lined plate to absorb excess oil.
Serve the fried fish immediately to preserve its crispiness.
Q: What not to do when frying fish?
A: When frying fish, it's important to avoid a few common mistakes:
Don't fry fish that is not fresh or has an unpleasant odor. Fresh fish ensures better taste and texture.
Avoid using too much oil, as it can make the fish greasy and heavy.
Don't overcrowd the pan or skillet, as it can lower the oil temperature and result in uneven cooking.
Avoid flipping the fish too frequently while frying, as it can cause the coating to fall off.
Don't fry fish at a low temperature, as it can lead to a greasy and soggy texture.
Avoid using wet fish or failing to pat it dry before coating, as moisture can prevent the coating from adhering properly.
Q: Why put fish in milk before frying?
A: Soaking fish in milk before frying is a common technique that can help improve its flavor and texture. The lactic acid in milk helps tenderize the fish, making it more succulent and reducing any potential fishy taste. Additionally, the milk can help remove any unwanted odors from the fish. After soaking the fish in milk for about 30 minutes, pat it dry before proceeding with the coating and frying process.
Q: Why put flour on fish before frying?
A: Coating fish with flour before frying serves a few purposes. Firstly, the flour helps create a crispy and golden-brown crust when fried. It adds texture and enhances the overall taste. Secondly, the flour coating helps seal in the moisture of the fish, preventing it from drying out during the frying process. Lastly, the flour provides a base for other seasonings or spices to adhere to, enhancing the flavor of the fish.
With a few simple techniques and the proper ingredients, perfectly fried fish is well within your reach. Following the tips covered in this guide – from choosing the right oil and breading recipe to monitoring oil temperature and ensuring the fish is cooked through – will help you achieve crispy results with moist, tender fillets your friends and family will go crazy for.