8 Of The Best Baby Spoons For Self-Feeding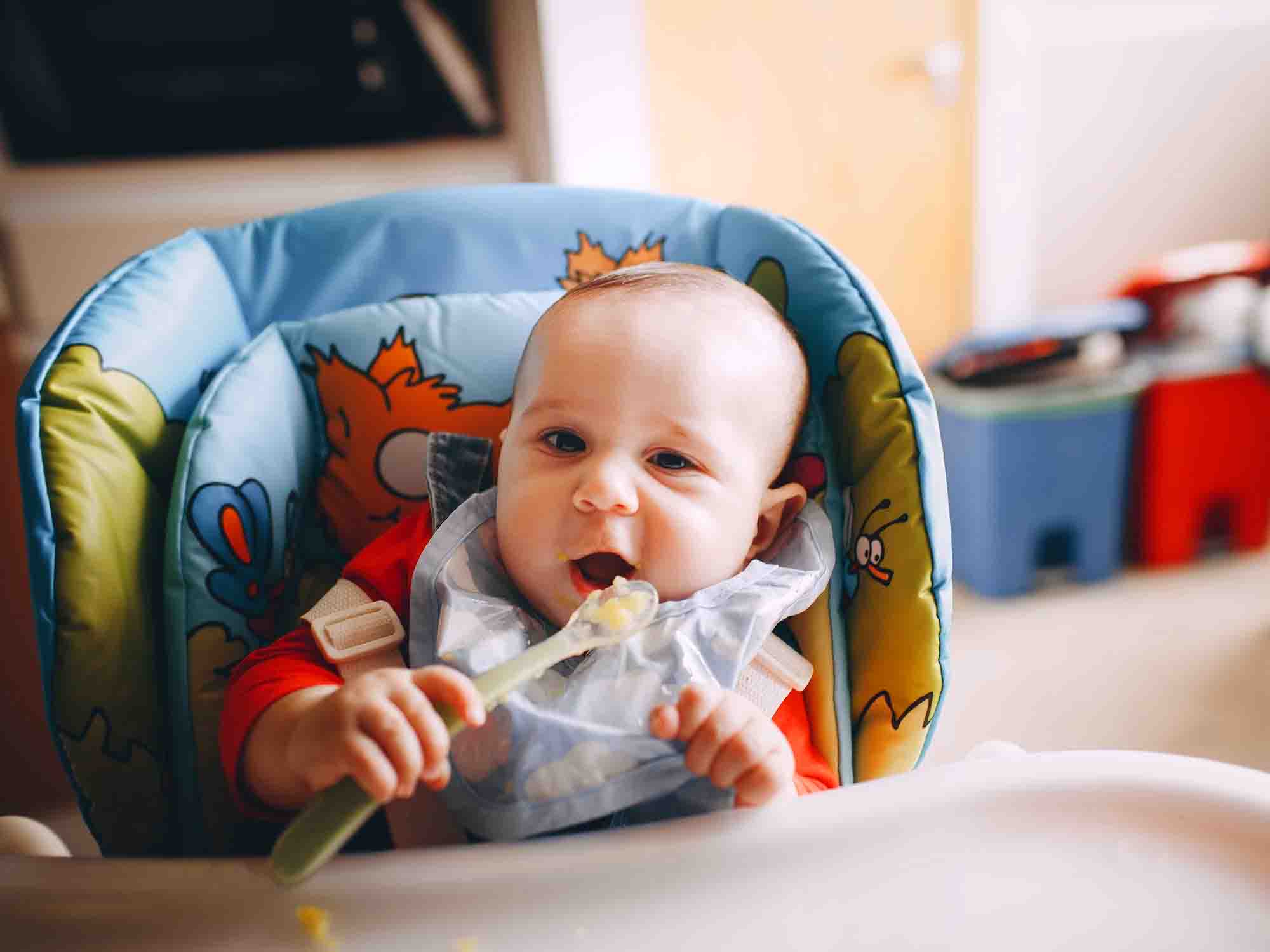 Thanks to our readers, for choosing Spoons.wiki Team to get reliable information. This article was orignally published on September 4, 2022. Updated Septemer 3, 2023.
Soon, your milk-loving newborn will be ready to eat solid foods. Also, it is a huge milestone and especially exciting! It's enjoyable to watch kids try different tastes and textures.
At first, you can feed most of the food yourself by initially serving the puree with a spoon. Then, when the child is older, he/she takes on the feeding task and begins scooping up her favorite food with a spoon.
Most babies around 6 months or even 4 can swallow a scoop of puree without choking. According to the Centers for Disease Control and Prevention's Infant Nutrition Report, babies can use a spoon on their own between 10 and 12 months of age.
But there is no limitation on it. Using a spoon on their own is fun for kids and they start it variably at any age. But choosing the best baby spoon for self-feeding is a difficult task. As with any baby product, be careful with the wrong spoon as it makes eating difficult and can damage your baby's delicate mouth and gums.
Such things can make the baby less interested in self-feeding. You can look at the products listed below and choose a spoon that suits your child's needs. A list available in different sizes, colors, shapes, and designs will help. So read the whole article to learn more. 
Read More: How to teach a baby to use a spoon"?  
Benefits of Self-Feeding for Babies: Why Use a Baby Spoon?
Introducing solid foods to your baby can be an exciting milestone, but it can also be a messy and challenging experience. One way to make the transition easier is to encourage self-feeding, which involves giving your baby a spoon and allowing them to feed themselves.
Self-feeding has several benefits for babies, including:
⇨ Development of Fine Motor Skills: Self-feeding helps babies develop hand-eye coordination, dexterity, and fine motor skills as they learn to grip the spoon, scoop up food, and bring it to their mouth.
⇨ Sense of Independence: Allowing your baby to self-feed gives them a sense of independence and control over their eating experience, which can help build their confidence and self-esteem.
⇨ Improved Appetite and Food Preferences: Self-feeding can help babies develop a healthy relationship with food by allowing them to explore different textures, tastes, and flavors at their own pace. This can lead to a more varied diet and a willingness to try new foods.
⇨ Bonding Experience: Self-feeding can be a bonding experience between parent and child, as it allows for more interaction and engagement during mealtime. It also gives parents a chance to observe their baby's feeding cues and respond to their needs.
Read More: Best Self Feeding Spoons for Toddlers
1. First Essentials by NUK-Best Self Feeding Baby Spoon for 6 Month Old
The comfortable support and design of the spoon protect the spoon from germs. It's very easy to use for small kids who just started playing with spoons. Also, we specifically recommend the spoon for children aged 6 months and older. Also, the spoon's soft tip will act gently on the new teeth and gums of your little one. 
Moreover, the spatula's edge helps wipe food to your baby's mouth. Also, the spoon has a comfortable holding and helps in the self-feeding of the babies and babies will carry it easily.
Last but not least the material is perfect, neither too hard nor too soft. Also, another most appreciating thing about the spoon is the shovel-flat edges to scoop out what's coming out of the jaw. Overall, we recommend it if you are looking for something looks amazing and work great in your kid's self-feeding practice. 
Key Features:
Material of the spoon is excellent and much durable.

Completely BPA-free.

Spoon has a rubbery end which is completely harm-free for babies.

Also, the size of the spoon perfectly fits the baby's mouth.
Pros and Cons:
Pros
Dishwasher-safe.
Easy to use
Easy to clean
Cons:
No technical flaw in the product
2. Baby Spoons 3 Piece Set-Best Baby Spoon for Self Feeding for 6 Month Old
This silicone baby spoon is easy to dip and scoop, so kids can develop skills in the first steps when they start eating on their own. Moreover, it works gently on your baby's gums and is designed to remind you of your baby's teething. Also, the innovative design of the ribbed handle makes it easier to hold the spoon and lift more food. As we know, the Best utensils for baby self-feeding make eating more enjoyable and self-feeding faster.
Key Features:
The pure silicon material of the spoon is excellent and safe to use for your little one gums and teeth.

Also, the spoon is easy to sterilize and dishwasher safe.

This spoon has a perfect weight.

Design of the spoon is awesome, which gives the spoon a stylish look.
Pros and Cons:
Pros
The handle of the spoon provides easy holding.

Easy to wash

Spots resistant
Cons:
Not observing any technical issues
3. Silicone Baby Feeding Spoons
Made from food-grade silicone that is BPA, PVC, phthalate, and latex free. Soft, flexible tip that is gentle on baby's gums but also chew-proof. Bendable silicone handle that can be positioned for easy self-feeding or feeding from a parent. Spoon size is perfect for small baby hands to practice self-feeding skills. Comes in a 5-pack with a portable carry case for on-the-go feeding. Dishwasher and boil safe for easy cleaning.
Key Features:
Baby spoon is made from a pure material, BPA-free, and is without any impurities

It has a curved type of design that is amazing for self-feeding. 

Also, the handle of the spoon provides comfortable gripping and makes easy holding for the baby.
Pros and Cons:
Pros
Easy to clean

Modern and unique designing

Very affordable

Super flexible
Cons:
Some complaints about weight
4. Nooli First-Best Spoon and Fork Self feeding Set for Babies
The ergonomic fork and spoon encourage self-feeding and are ideal first tableware for infants and toddlers. Also, the ergonomic shape makes it easier for younger children to hold so they can hold the spoon correctly. A star-shaped anti-choking barrier prevents nausea while your baby goes through the developmental stages of eating behavior. Lastly, the grey color of the scoop gives it an attractive look.
Key Features:
The material of the spoon is high quality and durable

Handle of the spoon perfectly fits the baby's hand.

The cleaning of the spoon is straightforward.

Material quality is rust-proof and durable.
Pros and Cons:
Pros
Sturdy material

Unique Designing

The spoon is pretty wide for easy feeding
Cons:
Sometimes may feel slippery
5. Munchkin Raise 4 Count-Best Fork and Spoon for
Toddler Self Feeding
It Includes two Forks and two Spoons. Also, it has a Cutlery-free base to keep tables and other surfaces free from germs.  Furthermore, it is available in two colors, pink and purple. The child would easily control the hand because of its good size handle. Also, the design of the spoon is unique. Lastly, the spoon's material is excellent, making it much more durable.
Key Features:
The spoon is dust resistant

It is free from BPA and other impurities

Also, it is dishwasher safe.
Pros and Cons:
Pros
Affordable 

Durability 

Ease in use
Cons:
Genuinely No defects were observed
6. PandaEar Baby-Best Self Feeding Spoon for 1 Year Old
These spoons are made of high-quality food-grade silicone and are dishwasher-safe. Moreover, they are entirely free of BPA, phthalates, lead, and toxic substances. A protruding rim can provide sensory perception to prevent it from being driven too deep into the mouth. Above all, the ergonomic design of the spoon gives the spoon a beautiful and cool look. Lastly, they are made from high-quality material.
Key Features:
Baby spoon material is completely free of impurities

It has a beautiful well built design.

The weight and handle of the spoon are just great.
Pros and Cons:
Pros
Easy to clean 

Durable 

Pure material 

Affordability
Cons:
7. NumNum Pre-Best Easy to Use Spoon for Babies
These Thicker children's spoons with contoured handles fit comfortably and securely in children's hands. It's designed to use anything you want in a bowl with purees (1-level spoon) and soft or hard foods (2-level spoons)! Also, the sturdy construction of the spoon makes it easier to move around. They are available in two colors Glacier green and stormy grey. Also, they are good for all kinds of food.
Key Features:
Handle of the spoon gives easy holding to children.

Design of the spoon is modern and stylish.

The size of the spoon is excellent for feeding children.

Material of the spoon is rust-free and safe from impurities.
Pros and Cons:
Pros
Easy to wash 

Sturdy construction 

Modern design 
Cons:
8. Bumkins Utensils-Best Baby Fork and Spoon
It is designed for Stage 1 of Breastfeeding and Introduces your baby to the concept of self-feeding. Babies can practice puree dips when starting BLW. Also, a sensory protrusion on the back of the spoon's head stimulates the gums—made from silicone, free of toxic chemicals like BPA and PVC. Chewtensil can even be used by teething babies. It is one of the best silicon spoons for babies. 
Key Features:
The material of the spoon is high quality and durable.

Spoon has Ventilated throttle barrier for added safety.

Shape of the spoon is excellent for children.

They are easy to catch and clean.
Pros and Cons:
Pros
Completely safe to use 

Beautifully constructed 

Easy cleaning

Dust free 
Cons:
How to Introduce Self-Feeding to Your Baby: A Step-by-Step Guide
Introducing self-feeding to your baby can be a fun and exciting experience, but it can also be daunting for both parents and babies. Here is a step-by-step guide on how to introduce self-feeding to your baby:
Step 1: Wait until Your Baby is Ready
It's important to wait until your baby is developmentally ready to start self-feeding. This usually happens around 6 months of age, when babies start to sit up and can hold their head steady.
Step 2: Start with Finger Foods
Begin by offering soft finger foods that are easy for your baby to grab and hold, such as small pieces of fruit, cooked vegetables, or toast. Cut them into small, bite-sized pieces to prevent choking.
Step 3: Offer a Spoon
Once your baby has become comfortable with finger foods, you can introduce a spoon. Offer a soft-tipped baby spoon that is easy to grip and hold. Allow your baby to play with the spoon and explore it before introducing food.
Step 4: Place Food on the Spoon
Place a small amount of food on the spoon and offer it to your baby. Your baby may need some help at first, so guide the spoon to their mouth and encourage them to take a bite.
Step 5: Let Your Baby Take the Lead
Allow your baby to take the lead and self-feed as much as possible. This may be messy at first, but it's important to let your baby explore and learn at their own pace.
Step 6: Be Patient and Encourage Your Baby
Self-feeding can take time and practice, so be patient and encourage your baby along the way. Praise them for their efforts and offer lots of positive reinforcement.
Step 7: Gradually Increase Self-Feeding
As your baby becomes more comfortable with self-feeding, gradually increase the amount of food you offer on the spoon. You can also introduce other utensils, such as a fork, as your baby becomes more skilled.
Buyer Guide – What to Look for When Buying the Best Baby Spoon for Self-Feeding?
You may be wondering if you can just use a plain stainless steel spoon to feed your baby. After all, wouldn't it be good for the baby if it's enough for two people to eat?
Some old-school parents shrug their shoulders and say they can feed their babies normally without having to buy any other special tools. And you might want to use the fancy engraved silver spoon you received as a baby shower gift at mealtime.
However, most nutritionists recommend feeding using shallow plastic baby spoons as they are easier to for the baby's self-feeding period, and will not hurt your baby's fragile mouth.
If you have a toothy child or are in trouble with plastic spoons all in the dishwasher, occasionally using a metal spoon will be fine. However, plastic spoons are very cheap, so it is a good idea to have a few spoons to feed your baby.
Moreover, the best Baby spoons for self-feeding should be relatively small and narrow to fit easily in their mouth.
Shallow bowls are convenient because the child can bite their lips and scrape food easily with a spoon. Short, thick handles make it easier for babies to feed themselves, and long, thin handles help parents to puree.
Here are some recommendations when you buy your next baby spoon;
➦ Look for BPA-free spoons made from food-grade and dishwasher safe materials like silicone, stainless steel or bamboo. Avoid plastics with BPA.
➦ Buy sets with multiple spoon sizes ranging from smaller 1.5-2 inches to larger 2.5-3 inches. This allows the spoon to grow with baby's motor skills.
➦ Consider packs that include 2-6 spoons for good value and to have extras on hand. Changing spoons keeps things interesting for picky eaters.
➦ Spoons with textured or silicone grips provide a secure, non-slip surface for little hands to hold the spoon.
➦ Bendable silicone spoons adjust to different feeding positions and are gentle on developing gums.
➦Spoons with shorter 1-2 inch handles are best for starting out around 6 months. Transition to longer handles as baby gets older.
➦ Look for portable options like sets that come with a resealable plastic carrying case for messes on the go.
➦ Stainless steel or bamboo spoons offer durability but may feel cold, so check for insulation.
➦ Store extras in a clearly labeled ziplock bag or sterilized container in the refrigerator for up to 3 days.
➦ Buying a variety of snacks and styles exposes babies to different designs to advance self-feeding skills.
Benefits of Different Spoon Styles
Short Handle Spoons:
Ideal for small babies just starting self-feeding around 6 months.
A short handle is easier for little hands to grip and maneuver.
Less chance of babies smacking themselves in the mouth with the handle.
Long Handle Spoons:
Provides better leverage and control for older babies and toddlers.
Easier for parental feeding as the long handle keeps hands further from the food.
Some have suction cups on the end for no-slip gripping.
Spoons with Textured Grips:
Added texture on the handle provides a non-slip surface for little fingers.
Helps babies learn to grip and grasp the spoon securely.
Grips stay in place even when hands get slippery from food.
Multi-Size Spoon Sets:
Sets include different-sized spoons to grow with the baby's motor skills.
Smaller sizes are great for starting out, and larger for self-feeding practice.
Covers evolving feeding needs from purees to chunkier foods.
Convenient sets with multiple spoons in one purchase.
Frequently Asked Questions About Self Feeding Spoons for Babies
What is the best age to introduce a self-feeding spoon to a baby?
It's generally recommended to wait until your baby is around 6 months old and can sit up independently before introducing a self-feeding spoon.
What type of spoon is best for self-feeding?
A soft-tipped baby spoon with a shallow bowl is best for self-feeding. Silicone, plastic, and metal are all popular materials for baby spoons, each with their own advantages and disadvantages.
How can I encourage my baby to self-feed?
Encourage your baby to self-feed by offering soft finger foods and a spoon, allowing them to play with and explore the spoon, and offering lots of positive reinforcement and encouragement.
How can I ensure my baby's safety while self-feeding?
To ensure your baby's safety while self-feeding, always supervise them during mealtimes, offer small pieces of soft foods to prevent choking, and choose a spoon with safety features such as a soft tip and a non-slip handle.
Can self-feeding spoons be used for other purposes?
Yes, self-feeding spoons can also be used for other purposes such as feeding medicine or pureed foods to your baby. However, it's important to clean the spoon thoroughly between uses to prevent contamination.
Here is the end of our today article best baby spoons for self feeding. Newborns eat mashed potatoes and solids with their hands, baby spoons, and other baby self feeding utensils.
They will need your help first because hand-eye coordination is not the best. Using utensils and other tools as they grow and preschool age is an essential milestone in their development.
Let them be the ones to reach for the spoon, grow independently and show their curiosity. Your baby will be most successful if you let them guide you in this process.
We reviewed the eight best baby spoons for self feeding to make the learning journey of your baby easy and fun. Which one do you like most, let us know in the comments below.